The debate between bakuchiol and retinol is a fascinating topic that has been making waves within the natural beauty industry. Bakuchiol (pronounced "back-oo-chiol") is a Sanskrit name for the plant from where it is extracted. It is a native Asian herb that has a long history and tradition of being used in Indian and Chinese medicine.
Bakuchiol, which was extracted from the Psoralea seed, was discovered only in the 1960s. It was then that more research was done to discover its many beneficial properties. It was not until 2007 that it was synthesised into topical cosmetics. Bakuchiol is a new ingredient that has been gaining attention in the natural beauty industry.
WHAT IS BAKUCHIOL?
Bakuchiol is frequently credited with being a natural alternative to retinol. Bakuchiol is a plant-based component, unlike retinol, which is often synthesized. It is made from the seeds and roots of the babchi plants. Two main ingredients are derived from babchi plants. We have used both of them in this recipe. The first ingredient is either babchi oil carrier oil or bakuchiol carrier oils, which are cold-pressed from the seeds. The other ingredient is bakuchiol, which is obtained using a proprietary monomolecular extraction method (trade name Sytenol(r), A).
BAKUCHIOL VS RETINOL SKIN BENEFITS
Bakuchiol has many benefits that are similar to retinoids, but without the photochemical instability, redness, irritation and skin reddening that retinol is known for. Bakuchiol has been shown to increase collagen production, which can reduce wrinkles and hyperpigmentation and increase skin's resilience and elasticity.
It's also helpful in products for acne-prone skin because it keeps the acid mantle active and prevents lipid peroxidation. This helps reduce the production of bacteria and keratinization.
According to the 2018 research, "…bakuchiol can improve photoaging. It is also comparable to retinol and better tolerated than retinol. Bakuchiol promises to be a more tolerable option to retinol. Bakuchiol is also less photosensitive than retinol so it can be used in the morning provided you have adequate sun protection.
What is a BEAUTY CONCENTRATE?
This beauty concentrate is a light serum with an emulsion basis. This beauty concentrate contains high levels of high-performance ingredients, such as hydrosols, cold pressed oils, and various extracts. You can use this product alone or under a heavier cream or facial oil. Some people may find it too sticky to use alone due to the high proportion of humectants found in the emulsifier, glycerine, and glycerite components.
We have used heat-sensitive ingredients to create this product so we have used an emulsifier capable of creating cold-processed emulsions. Sucragel AOF is the emulsifier that we chose. It is well-known for its ability create thick oleogels, gel-to-milk cleansers, and masks.
Cold-process emulsifiers have the advantage of allowing you to use more heat sensitive oils in your emulsions, without causing damage. Many of the nutrients found in carrier oils can be destroyed by heat, so if you use a cold process to make your emulsions, you preserve their wonderful benefits.
OTHER KEY INGREDIENTS
Watermelon seed oil
Another ingredient that is getting a lot of attention lately is watermelon. It is a great choice as we move into summer in our region. The oil is light and absorbs well, leaving your skin feeling smooth. It's rich in essential oils (EFAs), particularly linoleic, which helps balance out the natural oleic acids found in acne-prone skin. This in turn reduces oiliness and clogged pores without drying the skin.
Watermelon seed oil contains a high level of linoleic acids, which makes it easy to absorb by the skin. This can help deliver active ingredients into the skin. It can be used in conjunction with collagen-stimulating substances like retinol or, as here, bakuchiol.
Hyaluronic Acid
This formula uses hyaluronic acids powder that has been approved by ECOCERT. It has a low molecular mass of between 10 and 50kDa. This ingredient is great for hydrating and delivering active ingredients deeper into skin. The skin naturally contains hyaluronic acid. By increasing its levels, we can improve skin hydration. This can lead to a more comfortable skin without making it feel greasy or sticky.
Caffeine powder
Caffeine powder offers many amazing benefits for skincare. Although it isn't as effective as coffee, it can provide nutrients and oxygen to your skin. It also helps reduce puffiness and stimulate circulation. Caffeine, also known as a vasoconstrictor, constricts blood vessels. This ingredient is supposed to reduce inflammation by reducing the appearance of inflamed and puffy skin. Another great ingredient is caffeine, which transports actives to the skin and places them where they are most needed.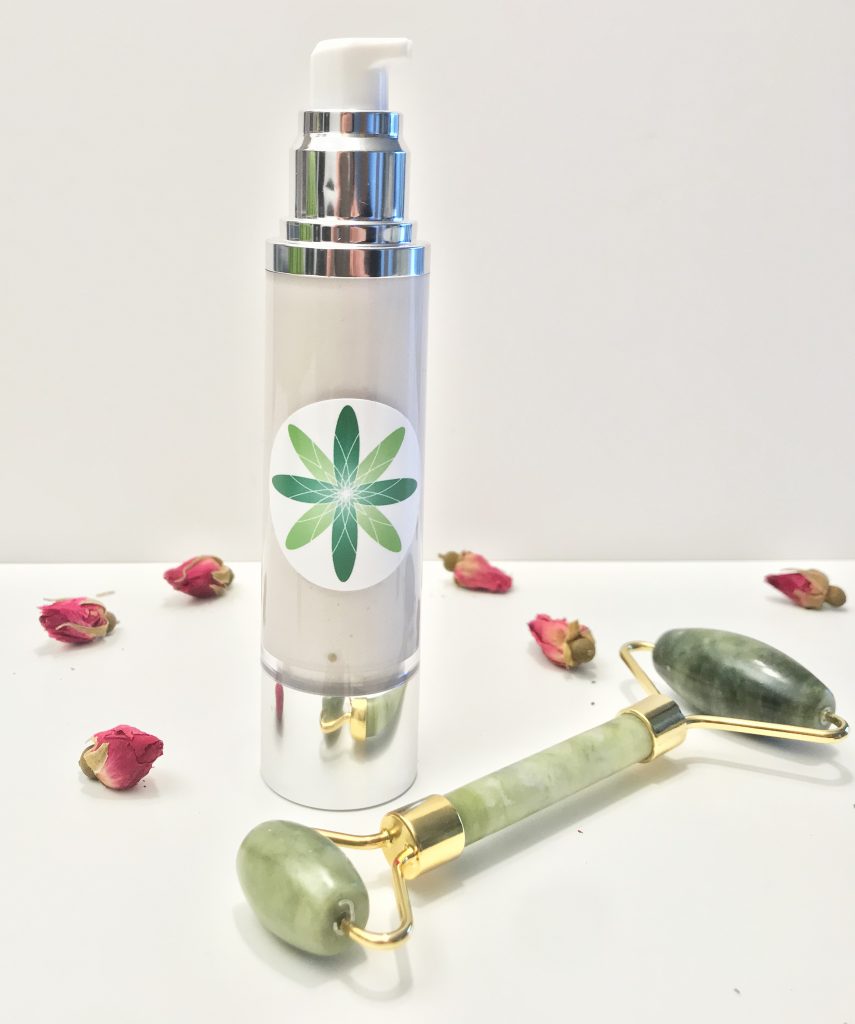 OUR FORMULATION – BAKUCHIOL BEAUTY CONCENTRATE
This bakuchiol formulation was created to make a lightweight, cold-processed emulsion that can be used under thicker creams or as a serum. This formulation can be used by itself, but some may find it too sticky. It is great under a moisturiser or sun protection cream to add extra hydration to the skin.
This simple formula can be used to find out the results of the bakuchiol/retinol debate. The serum can be used for up to a month. Leave us a comment on your results below.
| | | | |
| --- | --- | --- | --- |
| Phase | Ingredients | INCI | weight |
| A | Rose water | Rosa Damascena flower water | 15.00 |
| A | Aloe Vera juice | Aloe barbadensis leaf juice | 10.00 |
| A | Neroli water | Citrus Aurantium Amara Flower Water | 5.00 |
| A | Watermelon glycerite | Glycerin, Aqua, Citrullus Lanatus (Watermelon) Fruit Extract, Potassium Sorbate, Sodium Benzoate | 3.00 |
| A | Hyaluronic Acid powder | Sodium Hyaluronic | 0.25 |
| A | Caffeine powder | Caffeine | 0.20 |
| B | Sucragel | Glycerin & Prunus amygdalus dulcis (Sweet Almond) Oil & Sucrose Laurate & Citrus Aurantium dulcis (Orange) Fruit Water | 4.00 |
| C | Bakuchiol (babchi) oil | Psoralea Corylifolia Seed Oil | 5.00 |
| C | Watermelon seed oil | Citrullus Vulgaris Oil | 2.50 |
| C | Olive Squalane | Squalane / Olea Europaea Fruit Oil | 0.50 |
| C | Bakuchiol (Sytenol® A) | Bakuchiol | 0.25 |
| C | Vitamin E | Tocopherol | 0.25 |
| C | Rosemary CO2 antioxidant | Helianthus Annuus Seed Oil (and) Rosmarinus Officinalis Leaf Extract (and) Ethanol | 0.05 |
| C | Neroli essential oil (5% dilution in sweet almond oil) | Prununs amygdalus dulcis oil, Citrus aurantium flower oil | 0.25 |
| C | Geranium essential oil | Pelargonium Graveolens Oil | 0.25 |
| D | Vegetable Glycerine | Glycerine | 2.50 |
| D | Amigel | Sclerotium gum | 0.45 |
| D | Xanthan Gum | Xanthan gum | 0.05 |
| E | Euxyl K903 preservative | benzyl alcohol, benzoic acid, dehydroacetic acid and tocopherol | 0.50 |
|   |   |   | Total: 50.00 |
METHOD OF MANUFACTURE
Method of Manufacture
Preparation – Prep the workspace. Clean and disinfect all surfaces and equipment appropriately.
Phase D – prepare Weigh out the phase D gum/glycerine phase and create a slurry.
Phase A – prepare Weigh out the Phase A water ingredients into a beaker.
Combine A & D Combine Phases A and D to create a thickened gel mixture and leave to hydrate fully.
Phase C – prepare Weigh out the phase C oil based ingredients into a beaker and stir to combine fully.
Phase B – prepare Weigh out the phase B Sucragel into a separate beaker.
Combine B & C Stir the Sucragel until it turns opaque and then very slowly add Phase C to phase B drop by drop stirring well after each addition (this will take some time).
Combine A/D and B/C You should now have 2 beakers one containing phase A/D and the other with phases B/C. You can now combine the two phases, stirring well after each addition.

Once they are fully combined you can homogenize the mixture; we used a mini whisk with a flat blade which is ideal if for mixing small batches.
Check pH You can now check the pH of the product using the process recommended by the manufacturer of your pH equipment and adjust as needed to within the range of 5-5.5.
Add preservative Add the preservative and blend thoroughly.
Check / adjust pH Finally, you can check the pH again to make sure it is still in a suitable range for the preservative.
Bottle Transfer your creation into a suitable container and label according to your records.
FAQS
What are the skin benefits of bakuchiol?
Bakuchiol, a powerful antioxidant that stimulates collagen production, has the potential to reduce wrinkles and hyperpigmentation as well as increasing skin's resilience and elasticity. Bakuchiol is useful in acne-prone products as it keeps the acid mantle in active form, which prevents lipid peroxidation. This helps reduce the production of bacteria and keratinization. Bakuchiol can be a great addition to any skincare product for almost all skin types.
Is bakuchiol more effective than retinol
Bakuchiol vs retinol is common question. Bakuchiol can be described as a natural alternative to retinol for skincare, but without the negative side effects. Bakuchiol, a collagen stimulator, is used to reduce the appearance of lines and hyperpigmentation. Bakuchiol has many benefits similar to retinol, but it does not have the potential to cause skin irritation or redness. It is also less likely to be photochemically unstable and can cause skin irritation. Bakuchiol cosmetics can be used both morning and night on sensitive skin, unlike retinol, which must be used overnight due to its photo-sensitizing effect on the skin.
What is the source of bakuchiol?
Bakuchiol, which is often synthesized, is a plant-based natural ingredient. It is made from the seeds of the Babchi plant. It can be used as either a babchi oil carrier oil or bakuchiol bakuchiol derived from the seeds. Or as a high-performance extract of bakuchiol, usually as a manufacturer's exclusive form.
Where can I learn how to make natural skincare and haircare products?
Moglow Beauty School is a community of thousands of people who take free online courses that teach how to make organic skincare and haircare products for their own use or sell them. We also have the ability to help you set up your beauty business and brand.